Join the waitlist and you'll be the first to know when we launch the Lana Debit Card. The first 1,000 cardholders who successfully open an account will get $25 credited to their account! ¹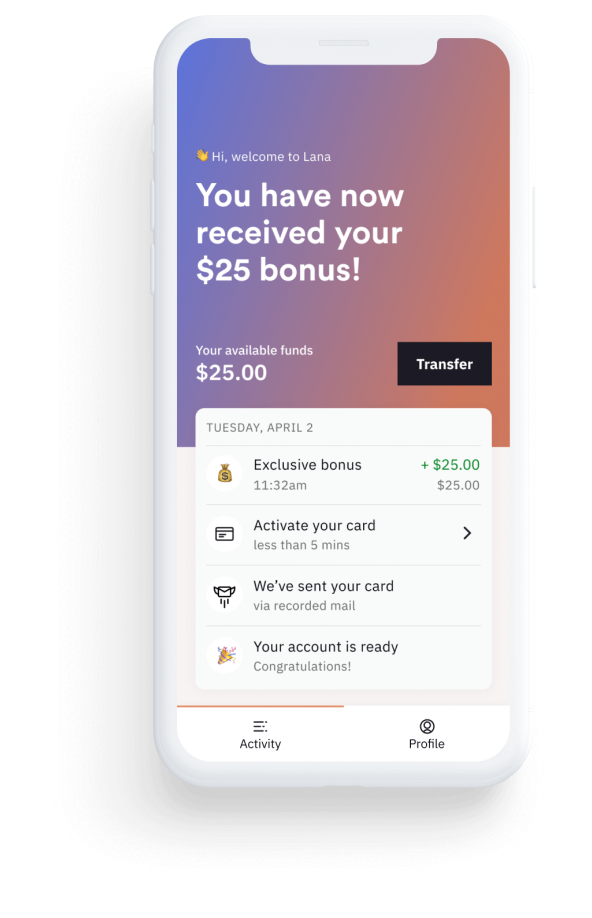 Get ahead with a $25 exclusive bonus.

What you get with Lana, straight up.
Time is money, so don't waste time waiting in line or driving around town for your money needs. ⁴
From the comfort of anywhere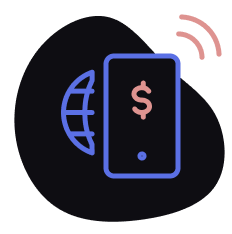 No up-front or monthly fees, no minimum balance requirements and no overdraft fees. ²

Pay bills online, get cash out on the go and move money from other accounts with ease. ³


FREQUENTLY ASKED QUESTIONS
We've read your mind – check out our responses to some of your questions.
Lana is a new kind of banking app and debit card. ¹ Simple to use and with no hidden fees! ² 😎
To make life smooth. We exist to improve people's relationship with money so they can better navigate through ups and downs. Our promise is to be there for you with easy-to-understand and reliable services.
Everyone! 👋 Everyone should have access to a service as easy as Lana. Do you want to be able to store your money with no hidden fees? ² Do you want to have more control over your money? If so, then Lana is for you.
We don't charge fees to open or maintain your account. We also don't charge overdraft fees.
We believe that everyone has a right to these services.²
Will applying for a Lana Card affect my credit?
Nope. Applying only requires that we verify your identity through some standard checks.
When can I apply for a Lana Card?
Not too much longer now! By adding your name and email on the contact form, you will be on our "Waitlist", which means we will notify you personally before we tell the public. Being on the Waitlist gives you the best chance of receiving the $25 First Customer Bonus.
When will I receive my $25 First Customer Bonus?
If you are one of the first 1,000 people to open a Lana debit account, then you will receive your bonus within a few days of opening your account ¹ 🎉
Want to know more about Lana? We'd love to hear from you, reach out via our Facebook page
© 2019 Lana App | All Rights Reserved | Privacy policy | Green Dot Corporation NMLS ID 914924
Banking services provided by Green Dot Bank and Lana Visa Debit card issued by Green Dot Bank, Member FDIC, pursuant to a license from Visa U.S.A. Inc. Visa is a registered trademark of Visa International Service Association. Green Dot Bank operates under the following registered trade names: GoBank, Green Dot Bank and Bonneville Bank. All of the registered trade names are used by, and refer to a single FDIC-insured bank, Green Dot Bank. Deposits under any of these trade names are deposits with Green Dot Bank and are aggregated for deposit insurance coverage. Your debit account is insured to the regulatory limits by the Federal Deposit Insurance Corporation (FDIC). Green Dot is a registered trademark of Green Dot Corporation. ©2019 Green Dot Bank. All rights reserved.
$25 credit applied within 10 days to the first 1,000 customers who successfully apply for a Lana debit account. Debit account opening is subject to Green Dot Bank's approval.
Other fees and limits apply
Available on active personalized cards. Cardholder eligibility criteria must be met for access to feature. Limits apply.
The Lana App and additional services within are not provided by Green Dot Bank.